Tyne and Wear Sight Loss Council visit Parks Leisure centre in North Tyneside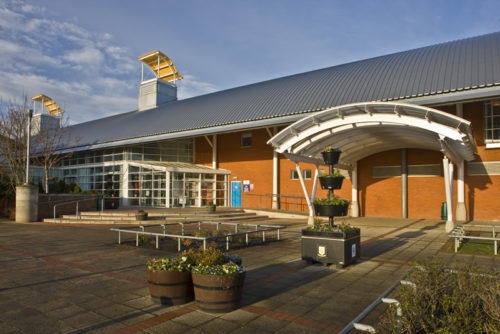 Earlier this month, Tyne and Wear Sight Loss Council were invited to Parks Leisure centre in North Tyneside by Team Leader Gary Jacques.
Sight Loss Council members toured the centre and were able to see all the facilities on offer; indoor bowls, badminton, trampolining, table tennis and much more. Staff at Parks Leisure centre tried on some Simulation Spectacles to better understand the challenges blind and partially sighted customers would encounter navigating the facility.
Gary and his team are committed to making the centre as accessible as possible for visually impaired visitors.
Parks Leisure centre team leader, Gary said:
"We want the whole community to feel they can use our centre regardless of ability. We welcome blind and partially sighted people who may have found it even more challenging during the pandemic to take part in sport, fitness or exercise".
Pauline, who also works at the centre and is visually impaired herself, says she understands what it's like to live with reduced vision and welcomes the involvement of the Sight Loss Council in helping to give visually impaired centre users the best experience possible.
Reports show that one in three blind and partially sighted people say there were sports or fitness activities they'd like to try but haven't been able to – (RNIB)
The centre also offers supported sessions for people with disabilities managed by Mark Thompson, pictured wearing our cataract simulation specs.
Sight Loss Council member and guide dog owner, Carly says the key concerns for her when visiting a leisure centre are that there is someone to care for her guide dog Franklin when she's taking part in activities and that the changing rooms are well lit accessible.
Gary and his team have invited the Sight Loss Council to be part of their next training day in December to raise awareness of visual impairment across the whole centre team.
Publication date: 23 November 2021