'You can achieve anything with teamwork and collaboration' – Sight Loss Council Conference
Last weekend we hosted our first-ever Sight Loss Council Conference—and what a weekend it was!
"The conference has been brilliant. It's been nice to meet new people and other Sight Loss Council members and hear what other Sight Loss Councils have been doing. It's been social, informative, I've learnt a lot, and the food's been great!"  – Anela Wood, Bristol Sight Loss Council member
The conference saw Sight Loss Council members attend from all over the country to meet, network and share ideas.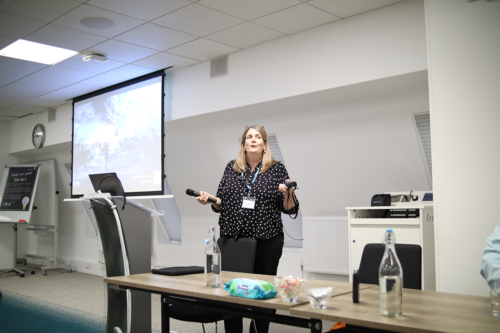 'Sight Loss Councils will be formidable'
The conference officially began on Saturday morning with opening remarks by Emma Hughes, Director of Services at Thomas Pocklington Trust (TPT), and a welcome by TPT trustee, Matt Wadsworth.
Following this, our special guest 'Blind Dave Heeley' spoke of his extraordinary experiences as a record-breaking marathon runner and tandem cyclist! He also spoke to members about the importance of being a committed team player to make a difference.
Heeley said:
"You can achieve anything with teamwork and collaboration… if you share knowledge across the regions, then the Sight Loss Councils will be formidable!"
This message seemed to really echo the atmosphere at the conference. Sight Loss Council member James Preston said:
"The Sight Loss Councils are growing. To get all that expertise together, to help and support each other, will enable us to become stronger to help everybody in the community."
'Push yourself outside your comfort zone'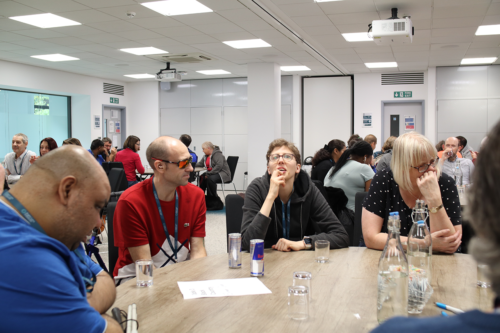 Then began the morning workshops, which covered different aspects of personal and professional development. In our 'confidence building' workshop by Iain Mitchell, participants learnt about ways to challenge their negative inner voice and how the key to personal development is to push yourself outside your comfort zone.
Meanwhile, in our 'Working collaboratively with others' workshop, Josh Feehan Spoke about the importance of finding common goals and ways to work collaboratively to attain them. Your advocacy goals are often aligned with more people and organisations than you might think; Josh said: "ensuring local services are accessible means an overall enhanced quality of service for all".
Engagement manager Masuma Ali led a workshop titled, 'Working effectively as a team' where she, echoing themes from that morning's inspirational talk by Dave Heeley, spoke about the power of teamwork: "As individuals we are great, but as a team, we are greater", says Masuma Ali
"The conference is awesome. I joined in the pandemic, so I hadn't met anyone yet. It's been nice to get to know everyone and learn new skills at the workshops." Emma Blackmore from Bristol Sight Loss Council
Campaigners and advocates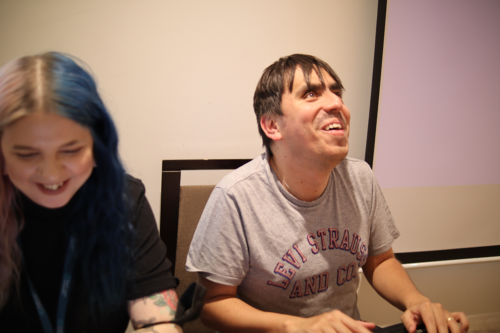 The afternoon workshops commenced, focusing on practical professional skills that would further empower and enable Sight Loss Council members as campaigners and advocates.
In the campaigning skills workshop led by Mike Bell, he spoke about employing different and creative methods to engage and communicate your advocacy campaign. Mike Bell also talked about the importance of reaching out to the right people who are actually in a position to affect the change you are campaigning for.
In our social media skills workshop, Engagement Manager Kevin Satizabal spoke about how to use social media to inspire change and write the perfect post!
He said:
"Social media can be a powerful tool where you can tell your stories and experiences as a disabled person. You can reach out to businesses directly, get involved with campaigns and advocate for a more accessible world online."
Head of Comms, Penny Wilkinson, delivered a workshop on working with local media. She spoke about the importance of using active and clear language when writing a press release and the steps to take when engaging with local media.
Rodney Powell Awards
Later in the evening, the first-ever Rodney Powell Awards ceremony took place!
The Rodney Powell Awards recognise the contribution a volunteer or volunteering team has made to the lives of blind and partially sighted people and Thomas Pocklington Trust.
Frances Powell, the wife of former chairman and trustee Rodney Powell, Thomas Pocklington's great-nephew, presented the award.
The evening was compered by visually impaired and multi-award-winning comedian Josh Pugh.
'Outstanding team' award
The first award of the evening was for 'Outstanding Team', where the volunteering team has demonstrated exceptional teamwork to achieve their goals.
The shortlisted nominations were:
Bristol Sight Loss Council for its work to develop visual awareness training with Bristol Eye Hospital
Gloucestershire Sight Loss Council subgroup for their work with the Clinical Commissioning Group
Greater Manchester Sight Loss Council subgroup for their 'Lets' Get Creatively Active' event
York Sight Loss Council for its work with e-scooter operator TIER, which led to the company being the first to commit to installing audible vehicle alerts to its fleet.
The winner was: York Sight Loss Council!
York Sight Loss Council received a surprise video message from Fred Jones, General Manager in the UK for e-scooter operator Tier.
'Outstanding individual' award
Next was the individual category that recognised those individuals who have impacted their local or wider community to improve the lives of blind and partially sighted people.
The shortlisted nominations were:
Frank McFarlane from Merseyside Sight Loss Council for raising awareness of the needs of blind and partially sighted people across employment, transport and sport.
Krupali Parshotam, Student Voices volunteer, for her contribution to Disabled Student Allowance reforms
Louise Lifely from Bristol Sight Loss Council for her contribution in developing vision awareness training.
Steve Ewens, also from Bristol Sight Loss Council, contributed to the Sight Loss Council and Peer Networks.
The winner in the Outstanding Individual category was Krupali Parshotam, who unfortunately could not be in attendance; however, she was able to record a thank you message, watch it below:
'Outstanding contribution to volunteering'
The final award was 'Outstanding Contribution to Volunteering.
The late Wayne Jordan was recognised in this category,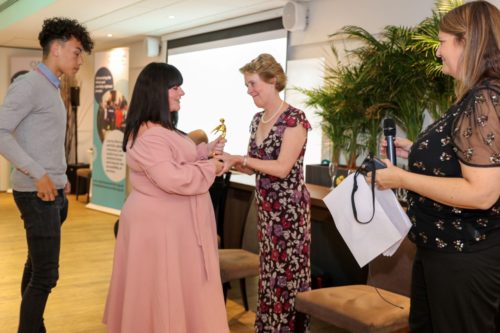 Wayne Jordan was one of the founding members of Birmingham Sight Loss Council, sadly passed away earlier this year. He was a well-known member of the VI community in Birmingham and worked tirelessly to break down barriers and advocate for other blind and partially sighted people.
Wayne's daughter, Kerrie, and his stepson, Jacob, were invited to say a few words. The ceremony ended on another emotional note. Anne Murphy, who sadly passed away this year, was also recognised for her role in the launch of Bedfordshire Sight Loss Council and her work to make the streets and public transport around Bedfordshire accessible for all.
The awards ceremony was an excellent opportunity to showcase the quantity of inspirational work that volunteers deliver across the country.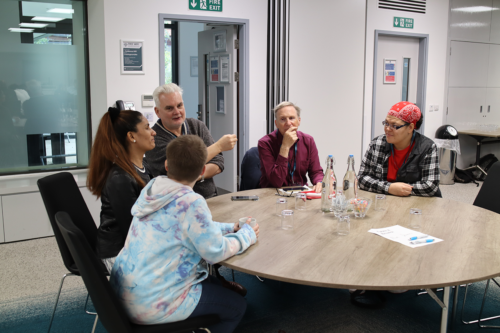 'It's very liberating to be together'
The conference continued the next day. After breakfast, there was an optional yoga session on offer in the morning, followed by a second-day welcome by Emma Hughes and a Theory of Change presentation by National Campaigns and Public Affairs Lead, Mike Bell.
After which, the Sight Loss Councils worked on their SLC Challenge and group presentations. Again, this was an excellent opportunity for Sight Loss Councils to be side by side, exchange ideas and get to know one another.
Claire Williams, Black Country Sight Loss Council member, said:
"It's just amazing to meet face-to-face with people, particularly that you've only known over the last 18 months through virtual meetings. It's very liberating to be together with people with sight loss because they 'get it'. There's a lot of expertise here. It's been great to meet people who have done other kinds of work in different areas of the country"
The conference drew to an end on yet another uplifting high! David Hyner delivered an inspirational talk titled; "Go forth, think big and create massive change". David told SLC members to "Embrace the fact that we may occasionally fail as human beings" and that "We learn by doing; you don't grow by just talking about it!"
We want to give a big thank you to our Sight Loss Council members, volunteers and staff, for all their hard work and support in making the first-ever Sight Loss Council conference such a success.
Publication date: 14 October 2021