West Midlands VI Forum – Life After Lockdown
West Midlands Sight Loss Councils held a 'Life After Lockdown' event that invited guest speakers, including rehab workers & ECLO's, Sight Loss Council members & local sight loss charities to talk about support services that are available. The event was a tremendous success and saw over 50 guests attend the event. We asked Sight Loss Council member and event host, Paul Hopkins to write about the event.
On Friday 25th March 2022, Sight Loss Councils for the West Midlands converged on the hallowed ground of West Bromwich Albion football club for the first ever in-person VI Forum. For the uninitiated, the VI forums are a hugely important part of the work of the SLCs and are directed by the visually impaired volunteers who make up the Sight Loss Councils supported by Thomas Pocklington Trust. The VI forums happen regularly throughout the regions, and anyone who is blind or partially sighted is invited to attend these events.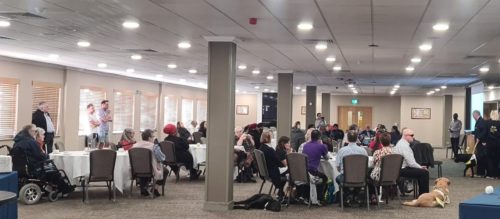 …And so, they did: Around 80 blind and partially sighted people turned up to hear presentations given by an Eye Clinic Liaison Officer; Guide Dogs and My Guide; Local Rehab Teams; SAMS Group and Birmingham Sight Loss Council volunteer Paul Hopkins on his lived experience of life during lockdown as a visually impaired guide dog owner.
You can't have an in person event without lunch as food is important right? The lunch break allowed attendees to talk and network, giving attendees the opportunity to mingle with the represented organisations and of course each other.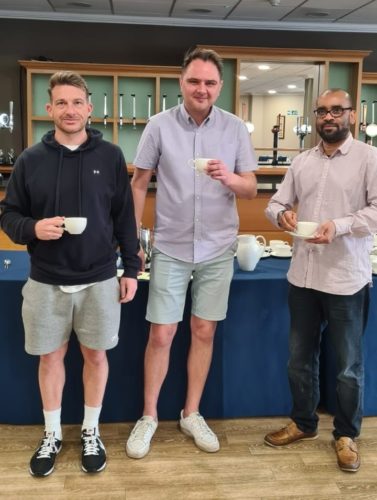 The event was rounded off by a group exercise in which different teams were formed to consider what our 'Perfect World' would be. This is very topical as this is the theme for the upcoming Sight Loss Councils National Conference 2022 is: 'A Perfect World' – what do we imagine a truly inclusive world will look like?
The day was expertly compared by Wolverhampton SLC volunteer Meena who kept the event running smoothly and ensured us presenters kept to time so that stomachs wouldn't start rumbling and we'd have plenty of chance to get home safely.
Both Meena and Paul reflected that volunteering for an SLC enabled them to be part of organising events like this with fantastic opportunities to gain experience, build confidence, meet others and give something back to the VI community.
 Extended thanks go to HSBC, who supplied sighted guides on the day; Russ Stephenson ECLO; Peter & Beth, Guide Dogs and My Guide; Rehab Teams (Birmingham & Sandwell) and SAMS Group.
Engagement manager Louise Connop says:
"The past couple of years have been hard on everyone. Lockdowns brought loneliness, isolation, anxiety for people with sight loss. These things have unfortunately been around for much longer. The event welcomed those who have a visual impairment and live in the West Midlands to come along and find out what support is available to get back out there and hopefully overcome some of these barriers."
Publication date: 03 May 2022